Tien Giang Vietnam is located in the southern key economic region of Vietnam, adjacent to the East Sea and Ho Chi Minh City, the provinces of Dong Thap, Ben Tre, Vinh Long and Long An. Located along the north bank of the Tien River, this province has a lot of potential to develop river tourism as well as cultural - historical tourism.
- Population: 1,772,785 people (as of 2021)
- Area: 2,510.60km²
- Administrative units of Tien Giang Province: My Tho City, Cai Lay Town, Go Cong Town, Cai Be District, Cai Lay District, Chau Thanh District, Cho Gao District, Go Cong Dong District, Go Cong Tay District, Tan Phu Dong District, Tan Phuoc District
- Postal code: 860000
I - Top 10 best attractions in Tien Giang Vietnam
1 - Cai Be Floating Market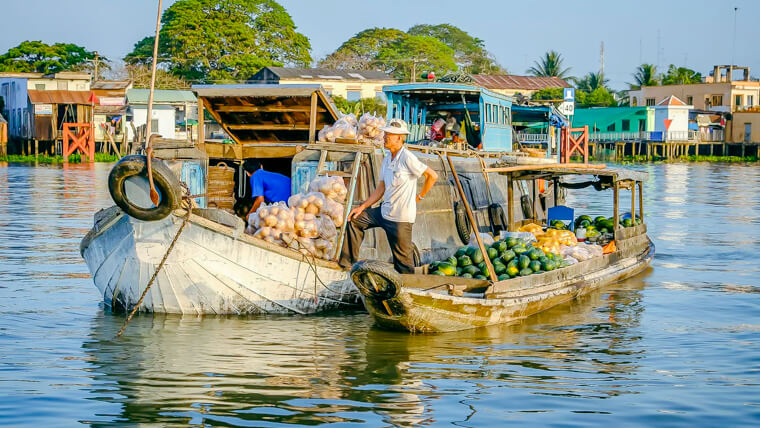 Cai Be is one of the most vibrant floating markets in Vietnam - Source: vietnamtravel
Cai Be Floating Market is located in the area of ​​​​the confluence of rivers intersecting with Ben Tre Province and Vinh Long Province. Unlike other Southern floating markets, this one is open from early morning until late at night, so you can feel free to come at any time. This market is famous for a lot of delicious foods, particularly countless handmade candy and dried fruit specialties, or fresh fruits such as Lo Ren star apple fruit, Tan Lap pineapple, rambutan, oranges,...
You should try once to get up early, take a boat to the Cai Be Market of Tien Giang Vietnam and experience the feeling of floating on the waves in the misty early morning, echoing the bustling sound of sellers and buyers. Do not forget to enjoy the cuisine on the river, eating a bowl of hot bun rieu and sipping a cup of iced milk coffee, and then shop to your heart's content for many rich specialties of the river region. You can visit this place in just a morning, by boat that can carry 3 - 5 people with a pretty cheap price of only about 100,000 - 150,000 VND / trip ($4.36 - 6.54).
Location: right in the center of the Cai Be Town, Cai Be District, Tien Giang Province
2 - Ba Duc House - an ancient house in Tien Giang Vietnam
The 2-hectare Ba Duc Ancient House harmoniously combines Asian - European styles and is surrounded by a garden of ornamental plants and fruit trees including sand mango, earthen orange, pomelo, longan, etc. The former building is a praying house to worship family ancestors, while the latter building used to be quite large with many compartments, but was damaged by the war, leaving only a small area for the restaurant. Between the two houses is a courtyard called Thien Tinh to bring light in, while in front of the first house is a wide corridor with solid balustrades. Tourists to Tien Giang Vietnam can enjoy rustic meals here with several specialties.
- Location: No.155, An Loi Hamlet, Dong Hoa Hiep Commune, Cai Be District
- Opening hours: 7am - 7pm
- Entrance fee: Free
3 - Truc Lam Chanh Giac Zen Monastery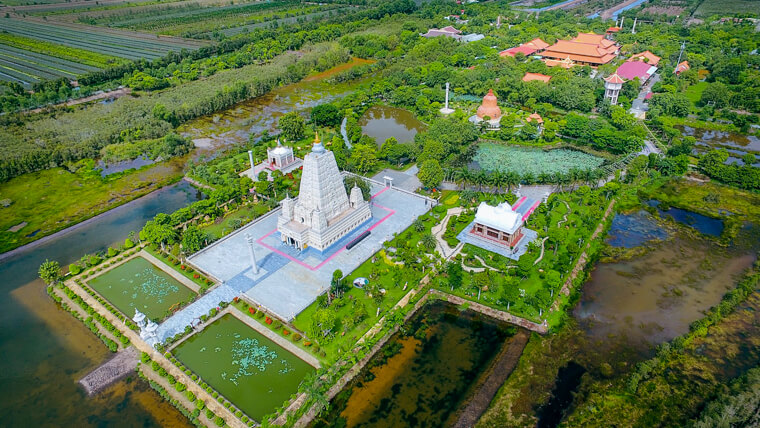 This is one of the largest zen monasteries in Vietnam - Source: thamhiemmekong
Covering an area of ​​about 50ha, Truc Lam Chanh Giac Zen Monastery possesses a series of unique large-scale architecture such as bell towers, the main hall, Lumbini and Dharma gardens, Bodhi Ashram,... The most prominent features here are the majestic white painted tower with many sophisticated motifs, and the 4.5m high statue of Shakyamuni Buddha, which weighs more than 30 tons.
On the third Sunday of each month, Truc Lam Chanh Giac Zen Monastery in Tien Giang Vietnam organizes ashram activities including chanting, repenting, listening to lectures, and sitting meditation. By visiting this place, you have a chance to not only enjoy the harmonious architecture between ancient and modern but also immerse yourself in a peaceful space, receiving a sense of serenity.
- Location: Hamlet 1, Thanh Tan Commune, Tan Phuoc District, Tien Giang Province
- Opening hours: 7am - 5:30pm
4 - Vinh Trang Pagoda
As one of the oldest and most famous architectures in the province, Vinh Trang Pagoda was established in the 19th century, built on a harmonious and unique combination of East-West cultures from France, Thailand, Malaysia,… The main materials are ceramic tiles imported from Italy, and up to now, the patterns and decoration lines still keep their shape intact and vibrant colors.
In front of Vinh Trang Pagoda in Tien Giang Vietnam, there are two large and magnificent martial arts-style three-door gates, in the ancient architectural style. The special feature of this gate is the art of combining pieces of porcelain to illustrate the history of the Buddha with all shapes of dragons, unicorns, turtles, phoenixes, and fishes,... You can find here numerous delicately carved Buddha statues, of which the most prominent are a standing Bodhisattva more than 24m high, a statue of Shakyamuni Buddha nearly 20m long, and a seated Maitreya statue nearly 20m high. The pagoda campus is filled with the pleasant smell of flowers and grass, coming from the fragrant lotus ponds, giant trees with cool shadows, and rare bonsai.
- Location: Nguyen Trung Truc Street, My An Hamlet, My Phong Commune, My Tho City
- Opening hours: 7am - 9pm
5 - Thoi Son Islet - a pristine land in Tien Giang Vietnam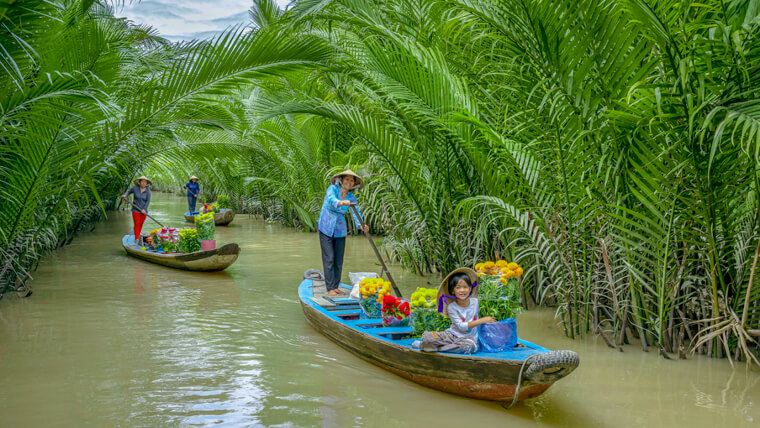 Thoi Son Islet also known as Qilin Islet - Source: truyenhinhdulich
On the Tien River, there are 4 beautiful islets named after the four Eastern spirit beasts "Long, Lan, Quy, Phung" (which means Dragon, Qilin, Turtle, Phoenix), of which Quilin is the largest with an area of over 1,200ha. The islet is a famous ecotourism site in Tien Giang Province, where you can enjoy the feeling of sitting or rowing a wooden boat through the nipa groves, enjoying the specialties and fresh fruits of the riverland, listening to don ca tai tu - folk music, trying honey tea or walking on the monkey bridge, riding a horse-drawn carriage,...
Location: belonging to Thoi Son Commune, My Tho City, Tien Giang Vietnam
Price:
- Including boat and above activities: 200,000 - 300,000 VND / person ($8.7 - 13.07)
- Meals: 100,000 - 200,000 VND / person ($4.36 - 8.7)
- Experience folk games: 100,000 VND / person ($4.36)
6 - Long Islet
Not far from Thoi Son Islet is Long Islet (Dragon Islet). Due to its unique shape, Long Islet is said to represent the dragon in the four spirit beasts of Oriental spiritual feng shui. This is a place for you to explore the lives of local people, featuring aquaculture rafts and ship repair. As soon as you set foot on Long Island, you will immediately feel the green space of the luxuriant orchards, with the ripe red rambutans, the heavy jackfruits, the fragrance of ripe longan in the wind,…
Staying at Long Islet of Tien Giang Vietnam for one night, you have the opportunity to experience a "specialty" of this country that is swimming in the river, and diving to catch rice snails. The island has many mudflats, so it is quite safe, you can freely swim, dive and play with the waves. Boiled rice snails dipped with lemongrass chili fish sauce is an extremely delicious dish, in addition to countless Southern delicacies waiting for you to enjoy. You can visit this place on the same tour as Thoi Son Island.
7 - Dong Tam Snake Farm - an incredible attraction in Tien Giang Province
Dong Tam Snake Farm - Source: baocantho
Located more than 9km from My Tho city center, Dong Tam Snake Farm is in front of the gate of the Military Zone of the same name. Established in 1996, Dong Tam Snake Farm in Tien Giang Vietnam is the largest snake farm in Vietnam with an area of ​​up to 30ha, including a museum, a snake island, a nursing area, a photography area, a treatment center, and so on.
This place freely raises thousands of snakes with more than 400 species, from gentle non-poisonous to extremely poisonous, including about 50 rare snake species. This is also a home for many rare animals such as crocodiles, long-tailed monkeys, ostriches, peacocks,... and many plants, most of which are medicinal plants. In addition to the interesting service of taking pictures with baby pythons and watching the monkey circus, you can also see and enjoy many unique snake wines. During the tour, you need to follow the instructions of the staff at the snake farm.
- Location: Binh Duc Commune, Chau Thanh District, Tien Giang Vietnam
- Ticket price: 10,000 - 20,000 VND / ticket ($0.44 - 0.87)
- Opening hours: 7am - 5:30pm
8 - Cathedral Church of Our Lady of the Immaculate Conception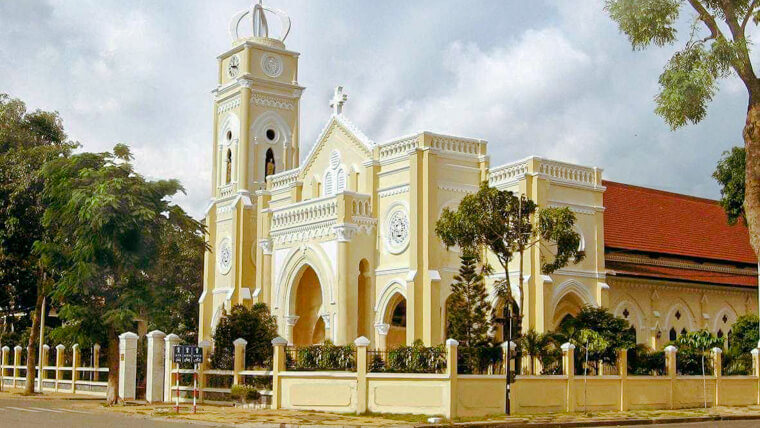 Catholic cathedral - Source: meta
Built on August 11, 1906, this 100-year-old church has undergone many restorations, but still retains its ancient beauty, with sophisticated motifs and typical Greco-Roman features of the Renaissance period. The cathedral has numerous supporting round columns, holding the dome decorated with many sophisticated patterns and motifs. Being a large, long-standing Catholic work that is right in the city center, this place always attracts many followers, especially bustling every Christmas season.
- Address: No.32 Hung Vuong Street, Ward 7, My Tho City, Tien Giang Province
9 - Hoang Gia Mausoleum - Hue quintessence in the heart of Tien Giang Vietnam
Having Hue royal architecture, The Hoang Gian (Royal) Mausoleum relic is the place of worship and the tomb of the Pham Dang family, including Mr. Pham Dang Hung - the grandfather of King Tu Duc (1829-1883). Covering an area of nearly 3,000m2, the tomb is built with an octagonal style bearing the shape of a court hat, supported by four stylized low pillars between a lotus bud, with the symbol of a pair of fish in the front. This place still preserves and displays extremely valuable ancient bas-reliefs, diaphragms, and monuments.
- Location: Long Hung Commune, Go Cong Town
- Opening hours: 7:30am - 6pm
10 - Tan Thanh beach resort


This is one of the most famous attractions in Tien Giang Vietnam - Source: traveloka
Also known as Go Cong according to the district it belongs to, Tan Thanh beach has its own beauty with a black sand beach over 7km long, dotted with blue wharves and green nets. It still retains the wild and idyllic features of the coastal land, especially attractive with fresh seafood processed into extremely attractive dishes.
Here, you can walk barefoot on the beach, feel the smoothness of the black sand, take pictures with the 300m long bridge, explore the life of the people in the sea by fishing and clam hunting, and so on. According to our Tien Giang travel guide, if you want to enjoy specialties, you can choose a suitable time following the lunar calendar, such as the clam season from March to September, the Sam season from October to February, or the snail season in the fifth lunar month.
II - When is the best time to visit Tien Giang Vietnam?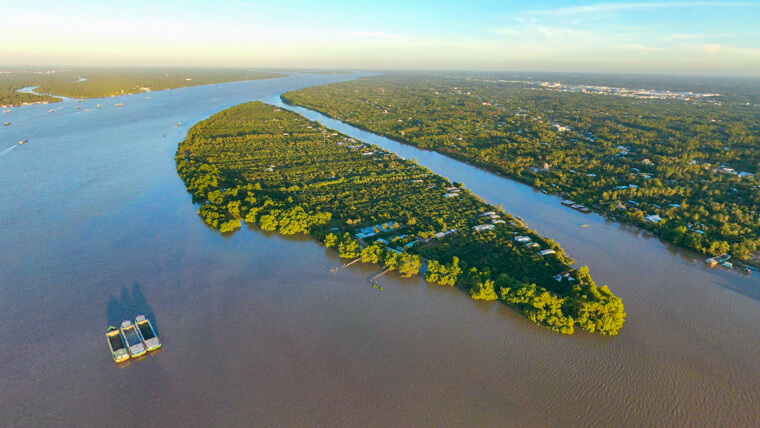 Long Islet - Source: thamhiemmekong
Located in the tropical monsoon climate, the province's weather has intertropical - subequatorial characteristics, with a yearly high temperature of about 27 - 27.9°C. There are two distinct seasons here, namely the rainy and the dry, which respectively last from May to November and from December to April next year. The most ideal time for you to visit is from February to September, when the weather is dry and bright, extremely suitable for sightseeing and taking check-in pictures. This happens to also be the fruit season of Tien Giang Vietnam.
In more detail, February is the season of star apple fruit, March - April is for mango, May - July is for durian and rambutan, and August - September is for longan. You can also participate in the Vietnam Fruit Festival, taking place in April every year since 2010 with many exciting activities. In addition, this province also has Tu Kiet Festival (5 - 16 of the 8th lunar month) at Cai Lay District, and Nghinh Ong Festival (10th day of the 3rd lunar month) at the Go Cong Dong District.
III - Tien Giang map
Tien Giang Vietnam is a southern province with an extremely rustic and genuine beauty, clearly showing the traditional colors of the countryside. Coming here, you will have the opportunity to visit unique architectural works, experience interesting ecotourism and enjoy delicious specialties. The gentle and hospitable locals, the river space and new experiences will surely make you fall in love with this land immediately.