Dak Nong province Vietnam is located in the Southwest of the Central Highlands, bordering Dak Lak province to the North and Northeast, Lam Dong province to the East and the Southeast, the Cambodia Kingdom to the West, and Binh Phuoc province to the Southwest and the West. Dak Nong Vietnam covers a natural area of 6.514,38km2 with 8 district-administrative units, including a district-town and 7 districts, 71 commune-level units including 5 wards, 5 towns and 61 communes.
- Postal code: 65000
- The nearest airport: Buon Ma Thuot airport (at No.100 Dam San street, Hoa Thang commune, Buon Ma Thuot city).
1 - Top 10 attractions in Dak Nong Province: Ta Dung National Park
Ta Dung lake - "A miniature of Halong Bay in Central Highlands" - Source: @TaDungLakeVietNam
Covering an area of 20,937.7ha, Ta Dung national park is the geographical and biological intersection between the South Central Highlands and the Southeast region. The park has a rich biodiversity, home to more than 1,000 species of fauna and flora, of which 69 species are recorded in the Vietnam Red Data Book (The Red Book of Vietnam is a list of animal and plant species in Vietnam that are rare and are being reduced in number or are in danger of extinction).
Ta Dung national park in Dak Nong Geopark is one in three rare reserve areas in Vietnam that is home to Indian hog deer, an endangered species. It also features stunning landscapes with many winding streams like Dak N'teng, Dak Plao, etc. and mysterious waterfalls, typically Dak Plao waterfall, Sun waterfall, and Dignie Klan waterfall.
Ta Dung lake is considered the most outstanding in the national park, covering a 20,000ha water surface and consisting of more than 40 islets. It is impressive with picturesque beauty, making its nickname "a miniature of Halong Bay in Central Highlands". Visiting Ta Dung national park in Dak Nong province, the most exhilarating experience is trekking through the forest trail, passing slopes to get to the lake and immersing in the vast, emerald-tinted landscape. You and your travel companions can set up a campsite overnight near the lake, prepare dinner with grilled chicken, BBQ party with wild vegetables, etc. If you get to the lake at sunset, do not forget to admire the splendid beauty of the surroundings and the deep-blue jade Ta Dung lake.
- Location: Dak Som commune, Dak Glong district
- Website: https://vuonquocgiatadung.vn
2 - Nam Nung Nature Reserve in Dak Nong Vietnam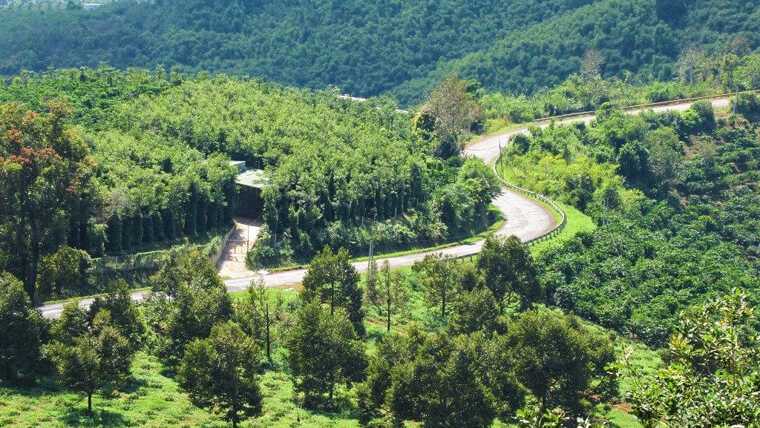 Nam Nung nature reserve - Source: vietnamcoracle
With a natural area of 21,865.87ha, Nam Nung Nature Reserve covers areas in 07 communes: Nam Nung, Nam N'Dir, Duc Xuyen, Quang Son, Dak Hoa, Dak Mol, Nam N'Jang. The majority of the nature reserve is primitive forests with extremely rich biodiversity and extraordinary natural landscapes and historical sites, which have a huge potential for tourism development. It is highly recommended for any adventure lover to join in the trekking tour through Nam Nung forest, which gives you a chance to discover the stunning natural landscapes, geology, biodiversity, and traditional culture of the M'nong indigenous people.
Standing out in Nam Nung Nature Reserve in Dak Nong province, this area is the 20m high - Luu Ly waterfall with untouched beauty and features many layers of rock covered with green moss. The trail from Highway 14 to the waterfall is covered by many forests and lush green trees planted in the typical basalt soil of the Central Highlands.
Another attraction is Truc Lam Dao Nguyen Zen Monastery, leaning against a 1,500m high mountain. This is a prominent spiritual-religious site of the province, attracting the large number of visitors to come to admire its architecture and enjoy peace and tranquility.
3 - Lieng Nung Waterfall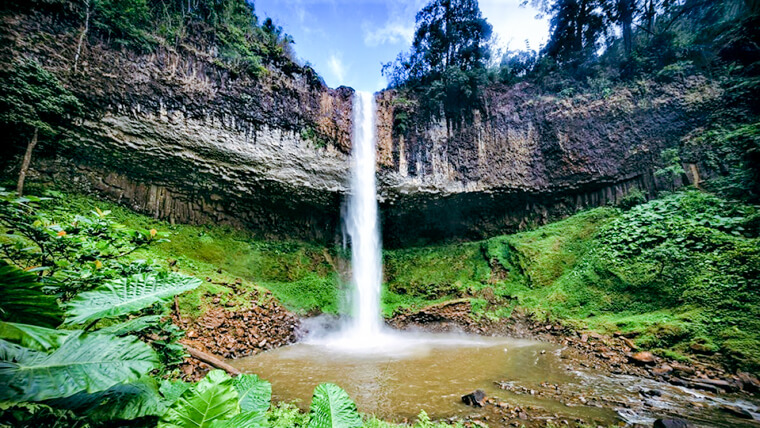 Lieng Nung waterfall - Source: baodantoc
Lieng Nung waterfall, also called Dieu Thanh waterfall, is located on the Dak Ninh stream. It includes three auxiliary waterfalls with the highest one being about 30m. The most unique feature of Lieng Nung waterfall in Dak Nong Vietnam is the folded rock geological structure, formed by volcanic lava in contact with water. The fall flows from high cliffs with deep unique-shaped hollows, covered by impressive green moss.
When standing near the fall, you will be overwhelmed by its majesty and feel the cool, tiny water droplets and cool, fresh air in the vast space. In addition, you can hear the sound of falling water and chirping birds echoing in the immense space.
- Location: N'rieng village, Dak Lak commune, Gia Nghia district-level town
4 - Nam Tang Waterfall in Dak Nong province
Nam Tang waterfall (Five-storey waterfall), also known as Dak Sin waterfall, is situated in Dak Sin commune in Dak R'lap district. Its name originated from the fact that it includes 5 storeys with various heights. The mighty, mesmerizing fall stretches more than 3km long.
Surrounding the waterfall in are lush green wild trees, mirroring the emerald water surface, adorning the majesty for the waterfall. Coming to Nam Tang waterfall in Dak Nong Vietnam, you can bathe in the cool water in the lake at the foot of the fall, stay in awe when standing near the rushing falling water from height or simply meditate near the fall to breathe in the fresh air and enjoy a quiet, tranquil atmosphere.
5 - Dray Sap Waterfall - Gia Long Ecotourism Area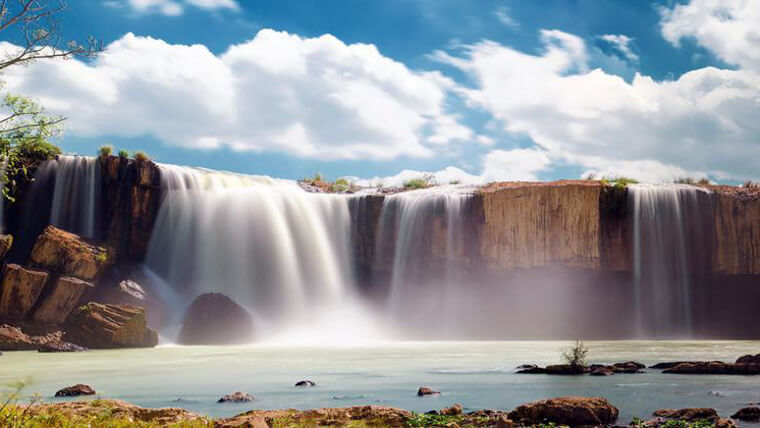 Dray Sap waterfall - Source: vntrip.vn
The ecotourism has an area of about 1,500ha, including Dray Sap waterfall, Gia Long waterfall, Fairy Stream, Tien Tam lake, and Chub Luk cave. This is a pride of locals in Vietnam's Central Highlands, where you can enjoy the cool, fresh air of the mountains and forests. To get to the area, you have to walk through more than 100 steep stone steps, then a jagged rocky place.
Coming to this ecotourism area in Dak Nong province Vietnam in the rainy season, you will fully feel the grandeur of the large "roaring" waterfalls falling from the height, which creates incredibly white foam. In the dry season, around April to May, you will be amazed by colorful blooming wildflowers alluring many butterflies and bees all around, which creates an amazingly stunning scenery. You can walk on suspension bridges to have a panoramic view of poetic streams winding around mountains.
Apart from scenic spots, the ecotourism also includes a zoo home to many species such as tiger, blue wildebeest, ostrich, and leopard. Surrounding these waterfalls in Dak Nong are green trees next to many large rock blocks, very suitable for picnic or setting a campsite. Meanwhile, from Gia Long waterfall, you can kayak to the upstream of the Serepok river to enjoy the magnificent view.
- Location: Krong No district
- Entrance ticket: 25,000 VND/ adult ($1.1); 15,000 VND/ kid ($0.66)
6 - Nam Blang Volcano
Nam Blang volcano - Source: sgtiepthi.vn
The complex of Nam Blang volcano, consisting of about 50 caves with a total length of 10km, is the most unique international geological heritage of Dak Nong Geopark. The cave system here is extremely impressive with the most outstanding one - C7 cave having a length of 1,066.5m - the leading volcanic cave in Southeast Asia in terms of size, length, and uniqueness.
The C3 cave is ranked the second largest one in Southeast Asia with a length of 594,4m. Inside the caves of C6 and C6-1 remains stone tools, pottery, animal bone fragments, shells of mollusks, ancient burial mounds, etc. of prehistoric people. C3 and C4 caves in Dak Nong Vietnam are connected with each other with a total length of about 968m. You have to buy an entrance ticket to come into these caves. After passing through large volcanic bombs located at the mouth of the caves, you come into the caves featuring mesmerizing stalactites, cracks, and folds,...
7 - Bu Gia Map National park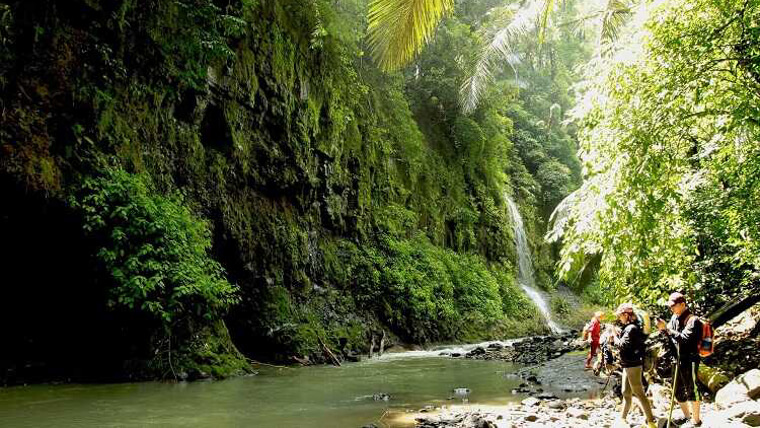 Bu Gia Map national park - Source: bietthungoctrai
Covering a total area of 26,032ha, Bu Gia Map National Park is located in the Northeast of Binh Phuoc province, and the east of Dak Nong province, the Northwest of the Vietnam - Cambodia border. The National Park has a diverse ecosystem, and beautiful natural landscape, suitable for picnics and nature exploration.
With a total area of 26,032ha, the park has extremely rich fauna and fauna, particularly it is a place to preserve rare genes of tropical flora and fauna. It has the highest peak 700m above the sea level, streams running along the Vietnam - Cambodia border such as Dak Hut, Dak Sa, Dak Ka, and Dak K'me, many charming caves, namely Dak Nghen, Do Mi, Gion Min, and waterfalls: Dak Mai, large-small Dak Ton, and Ta Lin. Bu Gia Map national park in Dak Nong Vietnam is also a historical relic, where the resistance war against America took place.
Trekking through the immense primeval jungle, wading in a cool clear stream, and bathing in the waterfall is a fantastic experience. Another extremely exciting activity is probably camping overnight.
- Entrance ticket: 70,000 VND/ person ($3.07)
- Fee for tour guide: 200,000 VND/ day ($8.76)
- Rate for accommodation: 200,000 VND/ room/ night ($8.6)
- Price for ordering meals at the canteen: 20,000 VND/ person ($0.87)
8 - Granite Stone Waterfall - top outstanding heritage sites in Dak Nong Geopark
Belonging to the tourist route of "Echoes of the Nature", Granite stone waterfall (also known as Truot waterfall or Slippery waterfall) belongs to Ta Dung National Park in Dak Som commune, Dak Glong district. The waterfall flows through granite stone blocks, which is incredibly rare; therefore, the waterfall itself represents the complex and diverse formation process of the Geopark. The smooth, large rocks are stacked on each other, scattered on the top and the foot of the waterfall.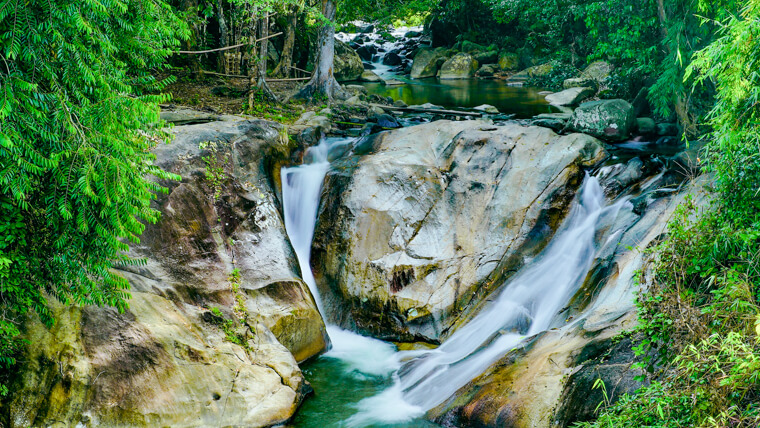 Granite Stone waterfall is one of the most famous waterfalls in Dak Nong province - Source: @DaknongUGGp
On both sides of the fall are many big, lined bambusa balcooa; tall, giant old trees and bunches of vines swaying in the wind, mirroring their images on the clear emerald water surface, making the atmosphere here extremely cool and creating a poetic picture of nature. Granite stone waterfall is a sacred site where many festivals of the Ma people take place such as the ceremony of worshiping the Forest God, Water God, etc. to pray for favorable weather, good crops, and bountiful harvests.
9 - Ede Ethnic Village in Dak Nong Vietnam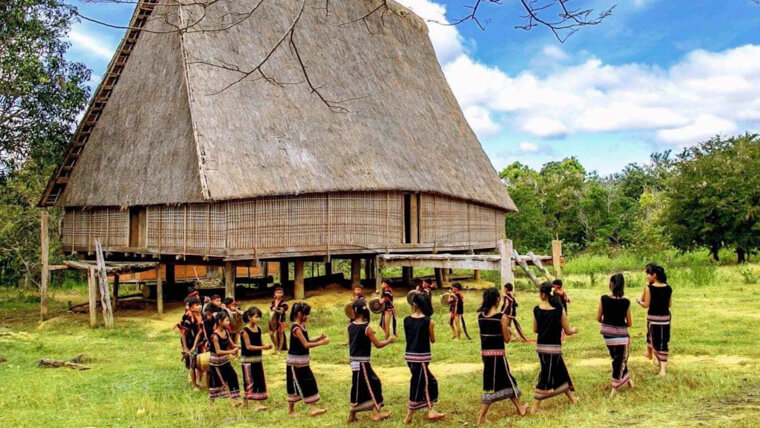 A rustic village of Ede Ethnic - Source: neworldtravel
Buor village in Tam Thang commune, Cu Jut district has still preserved plenty of unique architecture and rich culture of the Ede ethnic people, typically the architecture of the Ede longhouse that has existed for hundreds of years. The longhouse or Rong house is not only a living space for the whole family but also a cultural space where traditional ceremonies of the locals are held.
One of the highlights of the longhouse is the wooden stairs decorated with a couple of breasts and a crescent moon above the breasts, symbolizing the feminism, matriarchy of the Ede, and the desire for prosperity and fullness in life. Coming to the Ede Ethnic Village in Dak Nong province Vietnam, you get to discover the special architecture and design of the house as well as the meanings associated with each piece of furniture or item inside the longhouse.
10 - Dak Mil Prison
Dak Mil prison is a national historic site and a heroic historical relic bearing the imprint of a period of time during Vietnam's war. It consists of 9 compartments with wooden walls, and a thatched roof, surrounded by a barbed-wire fence. Inside the house features two rows of wooden floors equipped with foot shackles and handcuffs, where political prisoners slept.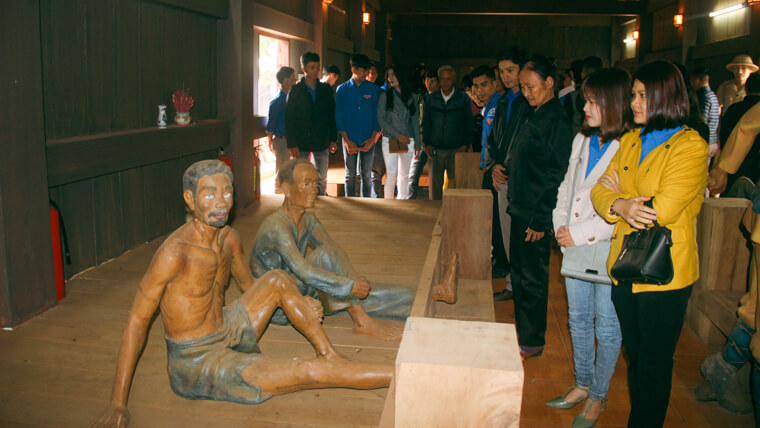 Dak Mil prison in Dak Nong Vietnam - Source: tinhdoandaknong
Hundreds of communist soldiers were detained and killed by the French colonialists in the past. The prison is considered the "red address" to reflect the patriotism of the Vietnamese people, and the resilient and strong spirit of revolutionary fighters. Once visiting Dak Mil prison, you can understand more about the brutal, severe regime of colonialist jail and the unyielding, heroic tradition of the country.
- Location: Dak Lao commune, Dak Mil district
With biodiversity, pristine natural landscapes, famous historical sites, and unique tradition together with rich culture of ethnic minorities, Dak Nong province Vietnam is a worth-visit destination for any nature lover and those who would love to discover a special "part" of Vietnam.