Thanh Hoa Province is located in Northern Central Vietnam, about 150km from Hanoi. The territory borders the provinces of Ninh Binh, Hoa Binh and Son La to the North, Nghe An Province to the South, Laos to the West and the South China Sea to the East. Covering an area of more than 11,000 km2, this locale is divided into 2 cities, 2 towns and 23 districts.
- Thanh Hoa postal code: 40000
- Thanh Hoa Airport: Tho Xuan Airport in Tho Xuan district is the only airport here.
I - How is Thanh Hoa weather all year round?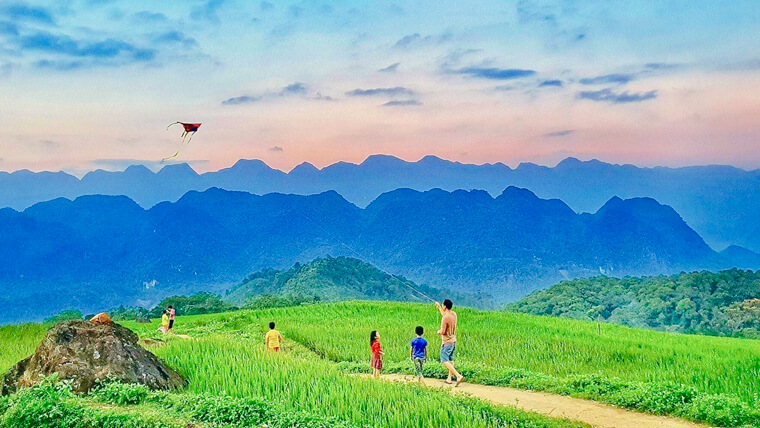 Source: vietnamplus.vn
Climate in this province is quite the same as that in other provinces in Northern Vietnam, which is manifested by 4 separate seasons: spring, summer, autumn and winter. Because of the influence of position, size of territory, direction of mountain ranges, altitude, ect., the locale has a wet monsoon tropical climate. The summer is characterized by heat, a lot of rain, hot and dry wind from Laos. The temperature can reach a peak of 41oC or even more. Winter in Thanh Hoa Vietnam is cold, scarce of rains, foggy, influenced by the Northeast monsoon in the direction from the coastal to the mainland, from the North to South. The temperature in some areas can occasionally decrease to below 2oC.
The annual average rainfall here is approximately 1,600 to 2,300 mm. The comparative moisture is from 85% to 87% while the number of sunshine in a year ranges from 1,600 to 1,800. 23oc - 24oc is the annual temperature on average. Temperature in this province has a difference in each month, each area, particularly, the higher the land, the lower the temperature.
II - Top 10 worth visiting destinations in Thanh Hoa Province
1 - Pu Luong Nature Reserve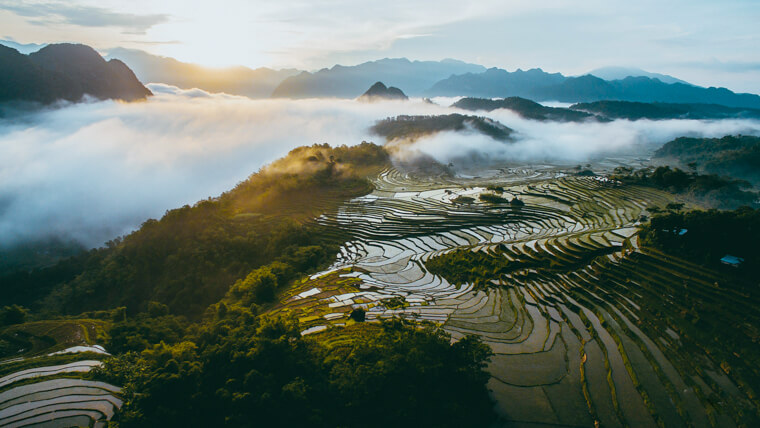 Source: bathuoc.thanhhoa.gov.vn
With an area of ​​17,600 hectares, Pu Luong Nature Reserve is located in the northwest of the province in two districts of Ba Thuoc and Quan Hoa. This place is endowed with a tropical seasonal evergreen closed primeval forest and beautiful rice terraces.
At an altitude of 1,700m, Pu Luong in Thanh Hoa Vietnam always has a cool, fresh and extremely airy atmosphere. Along with the extremely pleasant atmosphere, Pu Luong, also engages you with the simple and idyllic landscape and friendly people living in a traditional countryside. Coming here, you will be immersed in the pleasant Pu Luong weather, cool nature, stunning scenery and a variety of attractive specialties.
- Location: the districts of Ba Thuoc and Quan Hoa
- Email: kbttnpl.snnptnt@thanhhoa.gov.vn
2 - Sam Son Beach - the best beach in Thanh Hoa Province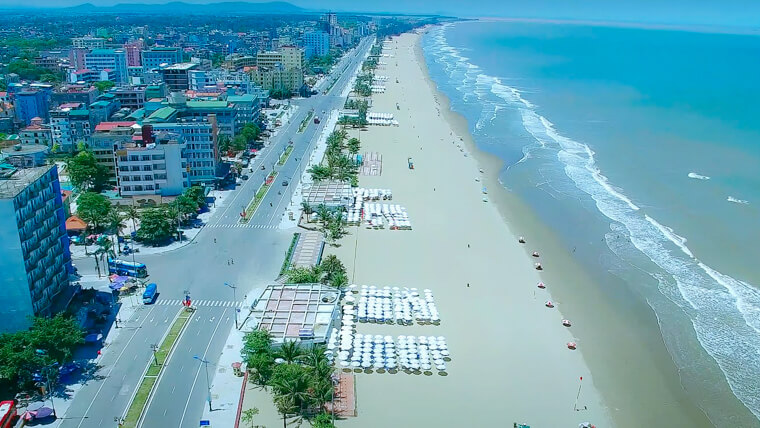 Source: thegioidisan.vn
Sam Son Beach has a coastline of about 9 km, lined by charming sub-beaches such as A, B, C, D beaches, Quang Cu Beach, Vinh Son Beach… These beaches all have the common characteristics of wide, flat, gentle slope, fine white sand, moderate waves, warm and clear sea water with a salt concentration of about 30% or less. Besides, calcium and many other minerals found in the water are said to have healing effects, good for the human body. Swimming at Sam Son Beach is one of the best things to do in Thanh Hoa Vietnam due to the long beach with clear, cool blue water, long white sand adorned with coconuts and casuarina trees swaying in the wind.
Sam Son Beach is especially crowded in the summer, when everyone wants to go to the sea and relax in a large space to dispel all fatigue and worries. This is not only a retreat with an ideal natural space, but also a place where you can enjoy extremely fresh seafood dishes. When traveling to Sam Son Beach, you should visit a few historical sites nearby such as Truong Le Mountain, Doc Cuoc Temple, etc.
- Location: Along Ho Xuan Huong Street, Bac Son Ward, Sam Son District-Level Town
3 - The Citadel of Ho Dynasty in Thanh Hoa Province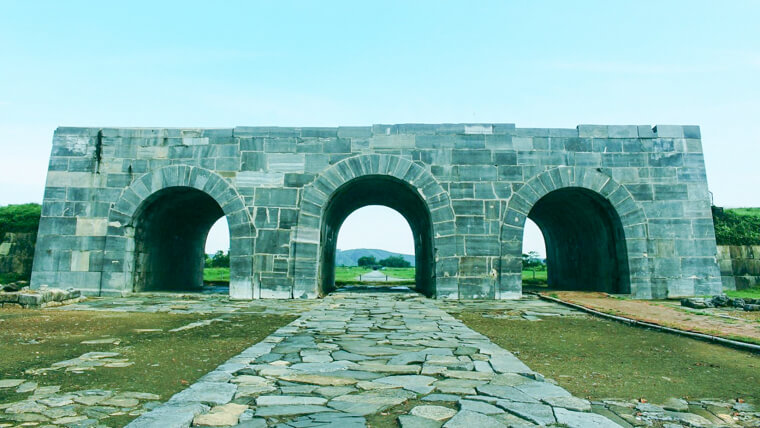 Source: baoquankhu4.com.vn
The Ho Dynasty Citadel is one of very few historical sites with unique and large-scale structure in Vietnam, and one of the few remaining stone ramparts in the world. The citadel, also known as Tay Do Citadel, An Ton Citadel, Tay Kinh Citadel or Tay Giai Citadel, was built in 1397 by Ho Quy Ly - a powerful mandarin under the Tran Dynasty then the king of Ho Dynasty in 1400.
This citadel is a highlight of Thanh Hoa tourism that has its outside built of stone, the inside mainly filled with earth. The south and north sides of the work are more than 900m long, the east and west are more than 700m long. The main components are the Inner Citadel, the Moat, the Outer Citadel and Nam Giao Altar. This place has a rather rugged terrain with steep mountains, surrounding rivers, and has strategic significance in the future. military defense, while promoting the advantages of waterway traffic.
- Location: Vinh Tien Commune and Vinh Long Commune, Vinh Loc District, Thanh Hoa Province
- Entrance fee: 10,000 VND ($0.4)/adult; 5,000 VND ($0.2)/child
4 - Lam Kinh Relic Site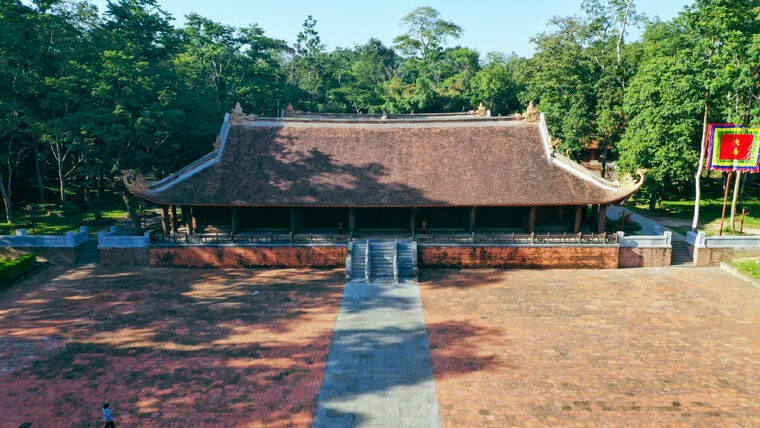 Source: vnexpress
Lam Kinh Historical Relic Site with an area of 200ha is located in Tho Xuan District, where hero Le Loi raised the flag of rebellion against the Ming invaders (China) in 1416. After the victory, in 1428, Le Loi took the reign under the title Le Thai To and named the country Dai Viet.
The king built his imperial citadel in Thang Long (Hanoi) and built another citadel in his homeland called Lam Kinh. This historical relic site in Thanh Hoa Vietnam was conducted on an area of ​​30ha, leaning on Dau mountain to the north, overlooking the Chu river in the south, Phu Lam forest on the left, and Huong mountain on the right. The architectural works are arranged along the South - North axis on a hill with the shape of the word "王" (king).
An important item of Lam Kinh Relic Site in Thanh Hoa Province Vietnam is the Lam Kinh Main Hall including 3 large palaces built on a large ground, namely Quang Duc, Sung Hieu and Dien Khanh. The architecture of the three main buildings of Lam Kinh is of special importance in terms of architectural art of the early Le Dynasty. The mausoleum of King Le Thai To (known as Vinh Lang) was constructed on a flat foundation with a nice geomancy with a spacious hall in front, Chua mountain and Dau mountain on the left and right which create the posture of "tiger bowing to the dragon". The overall layout and burial style of Vinh Lang is simple but solemn.
Coming to Lam Kinh Relic Site in Thanh Hoa Vietnam, you also have the chance to see Vinh Lang Stele is made of monolithic sedimentary rock, placed on the back of a stone turtle. The content records the life and achievements of King Le Thai To. This is a sculpture with artistic value and is also a valuable document for Vietnamese researchers in studying the history of the early Le Dynasty. It will be a big flaw not to mention Thai Mieu including 9 dignified buildings which are places to worship kings and queens of the Le Dynasty, of which the temple of Le Loi (King Le Thai To) is located in the southeast of Lam Kinh Relic, Thanh Hoa Province.
In addition to the typical architecture mentioned above, in the Lam Kinh Relic Site, there are tombs, auxiliary works system, and many other remains and antiques of historical, cultural and scientific value. Today, on August 21st and 22nd of the lunar calendar, people in the region organize the Lam Kinh festival to commemorate the merits of their ancestors.
5 - May Waterfall in Thanh Hoa Vietnam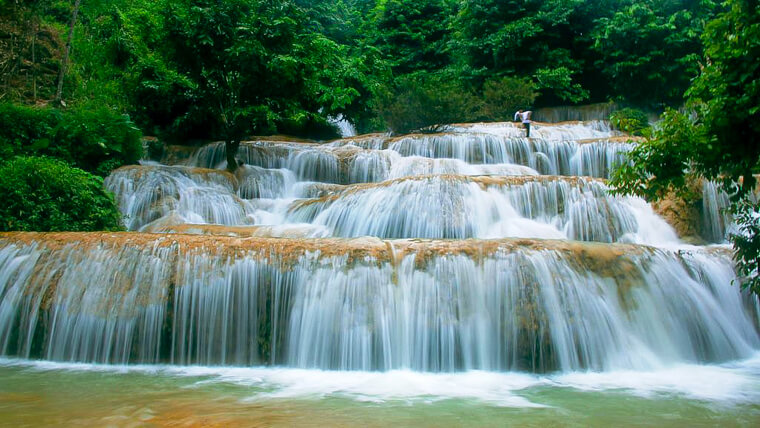 May Waterfall or Cloud Waterfall - Source: thanhnien.vn
The water stream falls from the top of Thach Lam Mountain, with a height of about 100m, and there are 9 steps of stone overlapping each other to create soft flows. The water runs in layers and layers and white like clouds in the sky all year round. Legend has it that, in the past, this place used to be a smooth, clear and gentle waterfall in Thanh Hoa Province. Suddenly one day, nine fairies crossed here and stopped to bathe. When the fairies were bathing, there was an order from the Jade Emperor to come back to heaven, the nine fairies rushed to the sky, leaving nine footprints which later on became nine steps and people called it "nine levels of love".
It has been passed on for generations that when couples in love go to this waterfall and bathe together, their love will become more and more passionate and end up with a happy ending. Unlike other waterfalls, where the water often pours loudly and violently, in May waterfall, the flow is gentle and calm in the green space of the mountains and forests, like white clouds in the clear blue sky. In addition to the main fall, there is also a father waterfall, a mother waterfall and a child one. On both sides are big old trees that always give shade to the waterfall. After being immersed in the beauty of the May Waterfall of Thanh Hoa, on hot summer days, you can bathe under the clear water. Under each step of the waterfall, there is a small lake, enough for dozens of people to bathe together. If you want to stay here, you should find a way to the foot of the fall. This is where some stilt houses of the local people nestle. There, you can not only have a place for residence but also sample exceptional specialties of Thanh Hoa Province.
- Location: Thach Lam Commune, Thach Thanh District
- Entrance fee: free
- Fee for relaxing at the stilt houses: 50,000 VND ($2.2)/person
6 - Cua Dat Hydroelectric Dam
Cua Dat Lake is known as a civil works of irrigation and hydroelectricity with a reserve of nearly 1.4 billion m3 of water and is also a potential tourist destination. In the vast space of water, Cua Dat Lake appears to be so tranquil. Standing in a vast space of nature, you will get the feeling of being so small. Along with that, the quiet scenery on all four sides of the lake will bring visitors to emotional reflections!
This land is another highlight of Thanh Hoa tourism. When coming to this land, you will find it hard to resist the attraction of enchanting caves and waterfalls nearby: Muong cave, Tinh cave, Vua cave (Van Xuan commune); Trai Gai Waterfall (Xuan Le Commune); Mu waterfall and especially Hon Yen waterfall. Another interesting thing is that the whole Cua Dat lake area is located in the Xuan Lien Nature Reserve, which is likened to the Amazon of Vietnam because it is typical for the two ecological regions of the Northwest and North Central with diverse flora and fauna, some of which are named in the Red Book of Vietnam and the world. Cua Dat Hydroelectric Dam in Thanh Hoa Vietnam also has many mountains over 1,000m high such as: Pu Rinh, Pu Gio, Pu Ta Leo year-round covered by fog and cold. All have created a beautiful and quiet painting. Besides that, there are several sacred temples & pagodas in the nearby area waiting to be discovered.
- Address: Xuan My Commune, Thuong Xuan District
- Entrance fee: Free
- Parking fee: 5,000 - 20,000 VND ($0.2 - 0.9)/vehicle
7 - Cam Thuy Magic Fish Stream in Thanh Hoa Province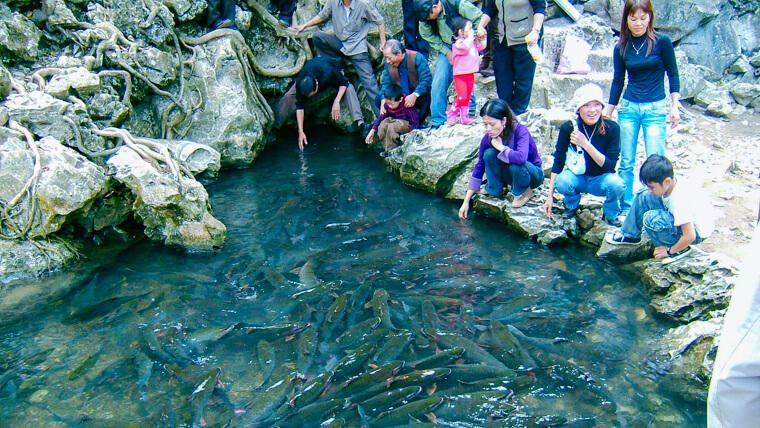 Source: wikipedia.org
The stream stretches for about 2km, flows from a rock cave at the foot of a mountain, and pours into a valley lying gently on the south bank of the Ma River. There are thousands of big and small fish here, each one can weigh from 2kg to 8kg, especially the king fish in Cam Luong Stream, weighing up to 30kg, showing up only a few times when the water is high. The school of fish here includes a diversity of rare species with fancy shapes, ample colors. When swimming, the fish's body sparkles with beautiful silver light. Although the density of fish is high, the water is not fishy at all.
At the Cam Thuy Magic Fish Stream in Thanh Hoa Vietnam, there are a lot of mysterious things about the magical fish stream in Cam Luong commune that have not been explained, such as: why the fish doesn't swim far away, only lives in caves and concentrate in this stream, how long is the lifespan of the fish, the main source of food?… Local people believe that the divine fish stream in Cam Luong is very sacred, that's why no one fishes. The abundance of fish is believed to bring a prosperous life, therefore, it is a custom passed down on generations to protect and worship the fishes.
On the way to Cam Thuy Stream in Thanh Hoa Province Vietnam, you can explore Cay Dang Cave on Truong Sinh mountain at an altitude of 70m. Inside the cave are a myriad of sparkling stalactites. The babbling brook beside the cave draws the visitors' attention. This is the source of the Cam Luong magic fish stream. And do not forget to take a walk around and visit local villages. There, you can get contact, understand more about customs of Muong People and buy tapestry clothes and sample specialties namely Ruou Can (wine drunk out of a jar through pipes).
- Location: Ngoc Village, Cam Luong Commune, Cam Thuy District, Thanh Hoa Province
- Entrance fee: 20,000 VND ($0.9)/person
8 - Ben En National Park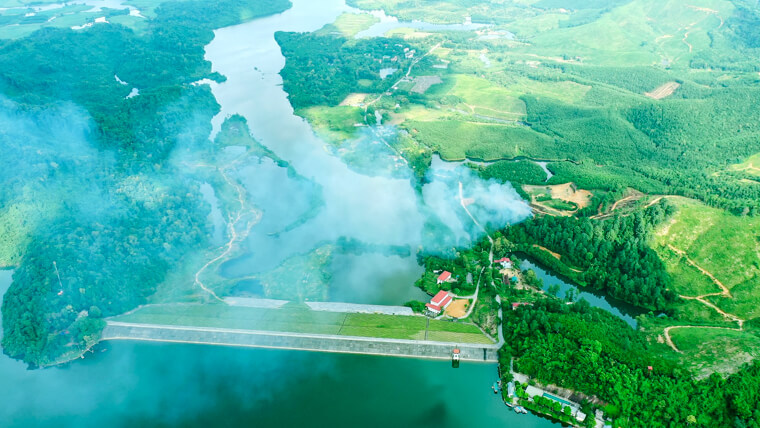 Source: @Vuonquocgiabenen
Ben En National Park covers an area of ​​​​nearly 15,000 hectares, of which the main component is primary forest with an extremely rich flora and fauna. This place is also prominent with Song Muc lake, about 4,000ha wide, and of great depth. The deep blue lake creates a charming landscape for the park's nature.
The diversity of Ben En National Park in Thanh Hoa Vietnam is shown with 462 species of trees and 125 prominent plant families, with the famous green iron tree in Vietnam having a tree age of up to several hundred years with a trunk diameter of nearly 3m. .
Ben En National Park has 50 orders, 177 families, 216 genera and more than 1,000 species of animals, including: 91 species of mammals, 261 birds, 54 reptiles, 31 frogs, 68amphibians, and 499 insects. In addition to lakes, islands and forests, Ben En National Park in Thanh Hoa Province also owns beautiful caves of which the most outstanding is Ngoc cave of 80m long, 8m wide, 2.5m high, which is an attractive tourist site.
Visiting the national park, you will glide on the quiet lake to enjoy the fresh air, then stop at the islands to erect tents, do activities such as kayaking, fishing. You can also participate in wildlife observation tours at night to observe species hiding behind the grass, grove or visiting Thai villages in the buffer zone of the national park.
- Location: Hai Van Commune, Nhu Thanh District
- Entrance fee: Free
- Website: http://benennp.com.vn
9 - Sai Khao Village - land of challenge roads in Thanh Hoa Province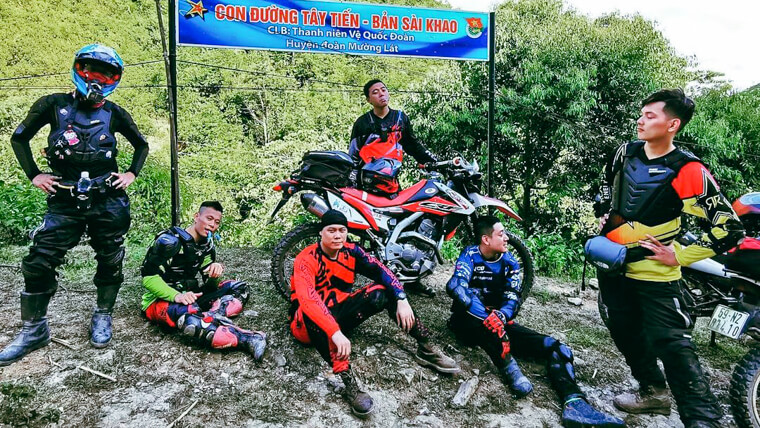 Sai Khao Village in Muong Lat District - Source: @huy_neat
As one of the highest villages (in location) of the province, Sai Khao can provide the best position to observe the spectacular Pha Luong Mountain Range with an altitude of nearly 2,000 meters hidden in the white clouds. The road to Sai Khao is a majestic and magnificent masterpiece that the Creator has painstakingly created, both to challenge people's courage and to make everything here distinct. In summer, while the air are quite hot and unpleasant, when reaching the top of the mountain, the temperature immediately drops, and the whole atmosphere turns cool and chilly.
Sai Khao Village in Thanh Hoa Vietnam in the hot season is still like a Da Lat of the remote border region, floating in the mist and wind. The colors of plum blossoms, orchid tree flowers in the beginning of summer cover the crooked red roads connecting from one mountainside to another.
However, in winter, the temperature in Sai Khao drops significantly. Without a heavy jacket and high boots, you are going to get numb for sure. The road is slippery, and muddy under the relentless rain of the forest. The steep rocky cliffs turned gray, majestically standing in the middle of the dense fog.
Sai Khao Village in Thanh Hoa Province in four seasons is the embodiment of difficulties and deprivation, yet still a place that lures people's feet. Coming to Muong Lat without dropping by Sai Khao, the journey lost interest. A trip to a harsh place like Sai Khao will be a highlight and important milestone in your travel diary.
- Location: Muong Ly Commune, Muong Lat District
10 - Voi Waterfall in Thanh Hoa
Voi Waterfall or Elephant Waterfall is associated with the event King Quang Trung of Tay Son dynasty advanced North to fight the Man Quing army (China). When passing through this land, he by chance discovered a large water stream in the middle of the forest. He gave a herd of elephants which were tired from the long journey to bathe and soak there. Unexpectedly, right after bathing, the whole herd of elephants suddenly filled with energy, howling loudly in the mountains. Since then, that land in Thanh Hoa Vietnam was called Hoc Voi (Elephant Cave) and later changed its name to Thac Voi (Elephant Waterfall) as it is today.
Elephant Waterfall is a charming picture of nature created by majestic waterfalls and green mountains. Each stream of water crept through from the interstitial rock, flowing through the sedimentary rock and then pouring down like a soft white strip of silk. Every time the sunlight penetrates through, the water bubbles form brilliant rainbow arrays, making the scene even more fanciful, magical and enchanting. At the foot of the waterfall is a clear and cool lake. There is nothing better than being immersed in that water on a burning summer day in Thanh Hoa Province Vietnam isn't it? Traveling to Elephant Waterfall, you should not miss the opportunity to check-in at the unique suspension bridge. This is a small wooden bridge, about 10 meters high from the foot of the waterfall. Standing on the bridge, you will feel like you are floating on a cloud.
- Location: National Highway 45, Thanh Van Commune, Thach Thanh District
III - Good to know when traveling in Thanh Hoa Province
1 - Getting around in Thanh Hoa Vietnam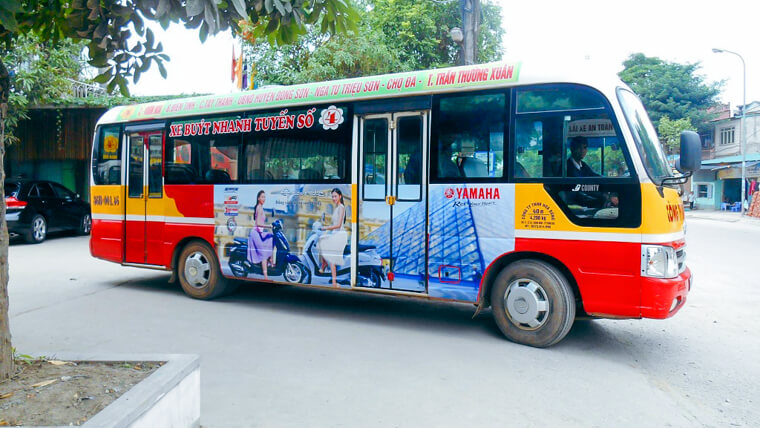 There are many public bus routes in the province - Source: hatuba.com.vn
If you are not comprehensively used to the local traffic, it is good to go by taxi or by bus.
Taxi
The taxi fee in this province is quite the same as other locales in Vietnam, ranging from 11,000 - 15,000 VND ($0.5 - 0.6)/km. Some reliable taxi companies:
- Mai Linh Taxi: 0237.3.75.75.75 - 0237.3.79.79.79
- G7 Taxi: 024 32 32 32 32
- Group Eco Taxi: 04.38.56.56.56 - 04.38.57.57.57
Besides, you can refer to Xe om (motorcycle taxi) but remember to deal with the driver before sitting in his vehicle.
Bus
A much more economical option is traveling by bus. Thanh Hoa Province has a relatively large bus network which can transport you to almost every tourist stopover. It is scheduled that there is one bus every 15-20 minute. Ticket price is less than 30,000 VND ($0.3) for the whole trip. Some bus that you can refer to are:
- Bus No.01: Thanh Hoa Train Station - Sam Son District-Level Town (passing by Sam Son beach); frequency: every 15 - 20 minutes
- Bus No.4: Thanh Hoa City - Thuong Xuan Town (having stop near the Ben En National Park); frequency: every 15 - 20 minutes
- Bus No.10: Hoi An Park - Lam Kinh Historic Relic Site; frequency: every 15 - 20 minutes
- Bus No.14: Sam Son District-Level Town - Cam Thuy Magic Fish Stream (passing by Cam Thuy Magic Fish Stream), frequency: every 15 - 20 minutes
2 - Thanh Hoa Map
Reading through a range of attractive stopovers mentioned above, have you found the potential of tourism in Thanh Hoa Province Vietnam? If you are in quest of a place to spend your holiday in Central Vietnam, do not skip this heroic land.