Long Xuyen Vietnam (postal code: 880000) has an area of 114.96 km², of which the inner city area is 24.4 km², and a population of 272,365 people (2019). Located on the banks of Hau River, this city is located about 185km southwest of Ho Chi Minh City and about 60km northwest of Can Tho City. This city has 13 commune-level administrative units, including 11 wards: Binh Duc, Binh Khanh, My Binh, My Hoa, Dong Xuyen, My Xuyen, My Quy, My Thanh, My Long, My Phuoc, My Thoi and 2 communes: My Khanh, My Hoa Hung.
I - What is Long Xuyen weather like?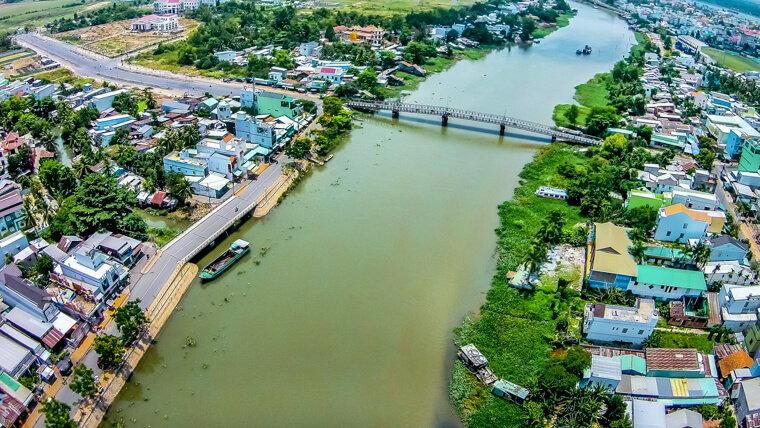 Source: @lxflyingteam
The weather here has common features with the tropical monsoon climate of An Giang Province, with 2 distinct seasons that are also influenced by monsoons. The rainy season is when the southwest monsoon is active (May - November), while the dry season is also the northeast monsoon season (December - April).
Long Xuyen City's average annual temperature is about 27°C, the average rainfall is about 1,130mm and humidity is 75 - 80%, which is favorable for agricultural and tourism development. The temperature here does vary slightly from month to month, with April and May having the highest average monthly temperatures, while December and January being the coolest.
Therefore, April - May will not be suitable for travel here, given that the intense heat can reach 35 - 36°C, easily causing fatigue. But the weather here at other times of the year is quite cool and less harsh, suitable for sightseeing and participating in various activities. If you want to admire the peaceful and poetic scenery, the best time to go to Long Xuyen An Giang is from September to November. If you love the festive atmosphere, you should go around April or August of the lunar calendar, when the Ba Chua Xu Festival (April 23 to April 27) and the Bull Racing Festival (end of August) take place.
II - What are the best things to do in Long Xuyen Vietnam?
1 - Ong Ho Islet
Ong Ho Islet - Source: thamhiemmekong.com
Laying in the middle of the beautiful Hau River, Ong Ho Islet belongs to My Hoa Hung Commune, about 4km from the city center. To get to Ong Ho Islet, you will have to take a ferry about 30 minutes from O Moi wharf (Nguyen Hue B Street, My Long Ward), provided by An Giang Ferry Joint Stock Company.
Ong Ho Islet in Long Xuyen An Giang is not large, with a length of 8km and a width of 5km at the widest place, parallel to Ong Chuong Islet - the largest island in An Giang Province. Coming here, you can not only immerse yourself in the green space with bamboo rows dotted with simple and peaceful houses, visit fruit-laden orchards, but also visit some famous attractions.
Traveling to Ong Ho Islet in Long Xuyen City, you definitely cannot forget visiting the memorial area of President Ton Duc Thang, which was recognized as a National Monument by the Government in 2012. This place currently displays many pictures, artifacts, documents and movies about Mr. Ton's life and career. On Ong Ho Islet, there are also many ancient architectures, including nearly 100 ancient houses that are over hundred of years old, Ong Ho Pagoda, and particularly My Hoa Hung Sacred Hall - a ancient architecture that has the styles of the Southern communal house and the Nguyen Dynasty.
Coming to Ong Ho Islet in Long Xuyen Vietnam, in addition to sightseeing, you can also directly participate in community tourism activities such as fishing, finding snails, roasting corn and potatoes in the fields, cycling around the island, boating on canals, … Currently, homestay tourism has been developed in the area, allowing you to spend the night in traditional Southern stilt houses, making folk cakes and enjoying specialties of the land of the rivers. There are many interesting things to do in Long Xuyen and you will surely be fascinated by the dishes of field crab, steamed snails with lemongrass, steamed chicken with bamboo leaves, grilled snakehead fish with rice paper, sour soup, and so on. In addition, the people of Ong Ho Islet also grow a lot of cherries, so the host often treats guests with wine made from it, which has a spicy and sweet taste that makes the meal more delicious.
2 - Long Xuyen Floating Market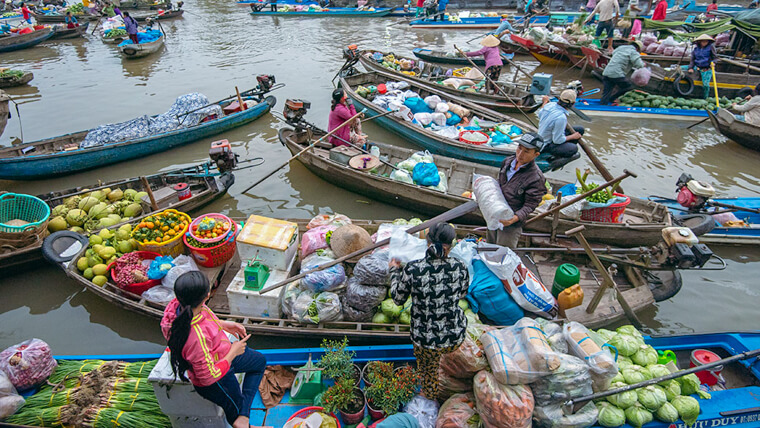 This is one of the busiest floating markets in Vietnam - Source: tiki
Only about 2km from the city center, this floating market extends about 2km on Hau River and can be easily reached by boat from O Moi wharf within 5 minutes. Because the floating market is quite small in scope, it is not suitable to go on a full tour, you just need to rent boats from the locals to explore, additionally being guided by them. Boat rental is also quite reasonable, only from 150,000 - 200,000 VND / boat ($9.24 - 12.32), depending on the number of tourists and the needs, with some reliable addresses such as:
- Mr. Dien: 0948 638 245
- Mr. Vang: 033 5300 624
- Ms. Tam: 094 8016 031
- Uncle Ba Do: 093 2944 419
Long Xuyen Floating Market is the place where hundreds of boats come from all over to buy and sell goods, mainly agricultural products - the best place for you to discover the culture, cuisine, and lifestyle of this region. This is considered as one of the floating markets that still retains the most idyllic and pristine features in Vietnam, has not been affected by tourism, still peacefully stretching along the river. The floating market usually operates from 5am to 10:30am, and the earlier is a better time to visit because you can both catch the dawn and freely explore while it's not too crowded yet.
A typical cultural feature of this Long Xuyen market is the "cay beo", which means that whichever goods are sold or introduced, they will be hung on a pole at the top of that boat. Looking at it, you can know what the main product is, from vegetables and fruits, to necessary items for daily life. While weaving in the floating market, you should not forget to enjoy the dishes here in the unique "floating" style, including fish cakes, fried vermicelli, or fresh seasonal agricultural products such as: pineapple, plum, jackfruit,…
3 - Ong Bac Pagoda in Long Xuyen Vietnam
Less than 1km from the floating market is Ong Bac Pagoda, or Northern Emperor Pagoda, located on Pham Hong Thai Street, My Long Ward. With an age of over 120 years, this is the first assembly hall and is considered as a place of worship for the Chinese who migrated from Guangdong Province (China). Ong Bac Pagoda was recognized as a national historical-cultural relic in 1987 by the Government of Vietnam.
With an area of ​​400 m², Ong Bac Pagoda in Long Xuyen City is an architectural work with typical Cantonese style and artistic nuances of the Nguyen Dynasty, colored in dark yellow combined with red and brown. The roof of the pagoda is covered with green glazed pipe tiles, carved with undulating patterns of eight fairies, dragons, phoenixes, ... as well as ancient and beautiful patterns.
The interior of the pagoda is airy and in accordance with feng shui, with many beautiful carvings in triangles symbolizing the three realms: Heaven, earth, and humanity. The main hall of this pagoda in in Long Xuyen worships the Northern Emperor (the 0.7m high statue), Thien Hau (Goddess Empress) and Quan Cong on 2 sides respectively, along with a number of other gods such as Shakyamuni Buddha, Earthen Bodhisattva, Jade Emperor…
Every year, people from all over the place come to attend on the 3rd day of March lunar month (Northern Emperor worshiping), the 22nd of March lunar month (Thien Hau worshiping) and the 21st day of July lunar month (Quan Cong worshiping).
4 - My Phuoc Temple in Long Xuyen An Giang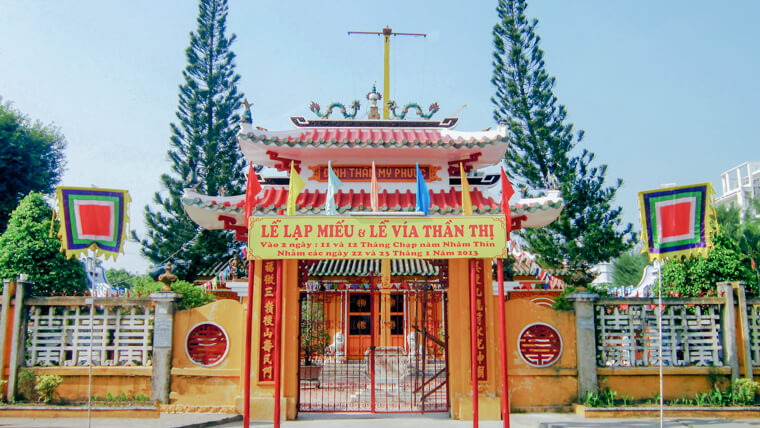 My Phuoc Temple - Source: wikipedia
Just a few streets away from Ong Bac Pagoda is an equally beautiful and superficial architecture - My Phuoc Temple is located on Nguyen Hue A Street, right in the center of My Long Ward. The year of construction is unknown, but the temple has existed for at least 130 years, recognized as a National Art and Architectural Monument in 1995.
Although it underwent many repairs (notably in 1889, 1903, 1960 and 1990), My Phuoc Temple in Long Xuyen Vietnam still retains its ancient architecture, three-level roof with bold folk features and many impressive carvings. Covering an area of ​​4,770m2, My Phuoc Temple is surrounded by a brick wall, with one main door and three side doors made of brick and cement, two sides are two jade glazed statues. The main building is 37m long, 16.5m wide, with high foundation and rows of round columns, the bowl roofs are harmoniously linked to create an airy space. My Phuoc Temple in Long Xuyen is a complex of many square areas extending to the four corners, carved with many beautiful and sophisticated patterns such as the two dragons adoring the moon.
5 - Nguyen Du Lake
About 1.5km from My Phuoc Temple, next to the Hau River is a quiet small park on Le Loi Street, My Binh Ward. Its center is Nguyen Du Natural Lake with an area of ​​about 1750m2, surrounded by green willow trees, where people often come to exercise in the morning or have a picnic on the weekend. The lake surface is always calm, sparkling like a giant mirror, making this place a dating mecca of Long Xuyen City An Giang Province. This is a green and quite pleasant space in the city, with many restaurants and small shops serving food and drinks nearby, you can walk or rent bicycles to wander around. Nguyen Du Lake is also a place often chosen to organize fireworks on New Year's Eve in the region.
6 - An Giang Museum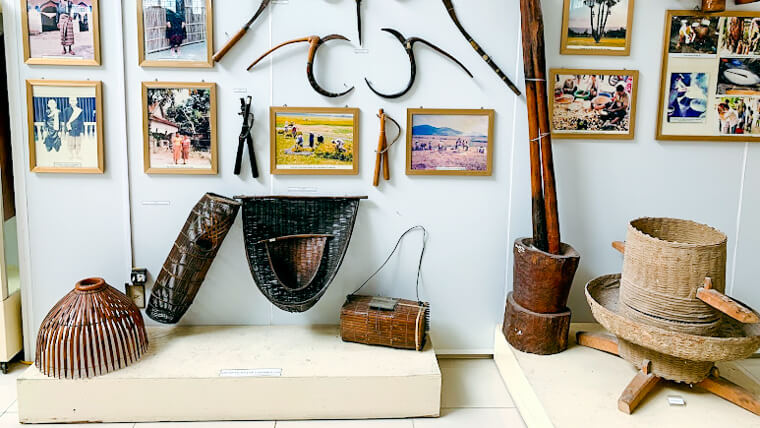 This is a large museum - Source: googlemap
Laying on the road from My Phuoc Temple to near Nguyen Du Lake, An Giang Museum is located at No.11 Ton Duc Thang Street, My Binh Ward, Long Xuyen City. Opening from 7am to 5pm everyday, the museum is a place to display documents, artifacts and images that reflect the history, culture and development of An Giang Province. You will get to hear about the biography and revolutionary career of President Ton Duc Thang - a warrior with a strong heart for national and class liberation.
An Giang Museum has ancient architecture and a beautiful large campus, with many kinds of ornamental flowers, especially frangipani flowers always giving off a gentle fragrance that gives you a pleasant refreshment. An Giang Museum in Long Xuyen Vietnam has 4 main galleries with different themes, of which room 1 displays nearly 200 photos and information related to the life of President Ton Duc Thang. Room 2 displays about 300 photographs, relics and archeological evidence such as ancient tombs, statues, working tools, and so on, which was excavated at the Ba The archeological site, belonging to the Oc Eo culture between the 2nd and 7th centuries. Room 3 keeps traces of the glorious revolutionary history of the heroic An Giang people, while room 4 displays products in accordance with the theme "Achievements in building and defending the socialist fatherland of An Giang province".
III - The best hotels in Long Xuyen Vietnam?
1 - Hoa Binh 1 Hotel
Hoa Binh 1 Hotel - Source: Facebook
This hotel has a beautiful and elegant design, including 60 rooms spread from the 3rd floor to the 7th floor with 4 room types: Standard, Suite, Deluxe and SUPERIOR. The space of Hoa Binh 1 Hotel is very large, including dining rooms, halls with a capacity of 100 - 500 people, offering services such as massage, steambath, music performances …
- Location: No.130 Tran Hung Dao Street, My Binh Ward, Long Xuyen City An Giang Province
- Room rate: 727,273 - 2,618,880 VND / room / night ($44.8 - 161.32)
- Contact: 0296 6252 999
2 - Lara Hotel
This 3-star hotel has 54 luxury rooms with 5 types of Standard, Premium, Luxury, Premium 1 and 2 with sizes of 18m2, 25m2, 36m2, 40m2, and 80m2 respectively. Decorated in rustic wood tone and close to nature, each room is fully equipped with amenities like sofa, air-conditioner, ceiling fan, .. in a simple and luxurious way.
- Location: No.46 - 48 Hung Vuong Street, My Phuoc Ward, Long Xuyen City
- Room rate: 589,000 - 1,048,500 VND / room / night ($36.28 - 64.6)
- Contact: 0296 3526 526
3 - Dong Xuyen Hotel - top 3-star hotels in Long Xuyen Vietnam
This modern 6-storey building includes 58 comfortable rooms with 3 types of Superior, Deluxe and Suite, equipped with full amenities. In addition to owning luxury services, Dong Xuyen Hotel is located in the commercial center and surrounded by shopping malls, banks, …, extremely convenient.
- Location: No.9A Luong Van Cu Street, My Long Ward
- Room rate: 500,000 - 1,799,999 VND / room / night ($30.8 - 110.88)
- Contact: 0296 3942 260
4 - Chau Khuong Hotel in Long Xuyen
This is one of the favorite hotels for couples, with a total of 52 rooms offering soundproofing, free WiFi, and minibars, with friendly and enthusiastic staff. In addition to a restaurant serving a variety of complimentary breakfasts, Chau Khuong Hotel also has a bar / lounge and a snack bar / deli.
- Location: No.2 Ha Hoang Ho Street, My Xuyen Ward
- Room rate: 770,000 - 810,000 VND / room / night ($47.43 - 49.9)
- Contact: 0296 3727 777
IV - Long Xuyen Vietnam tours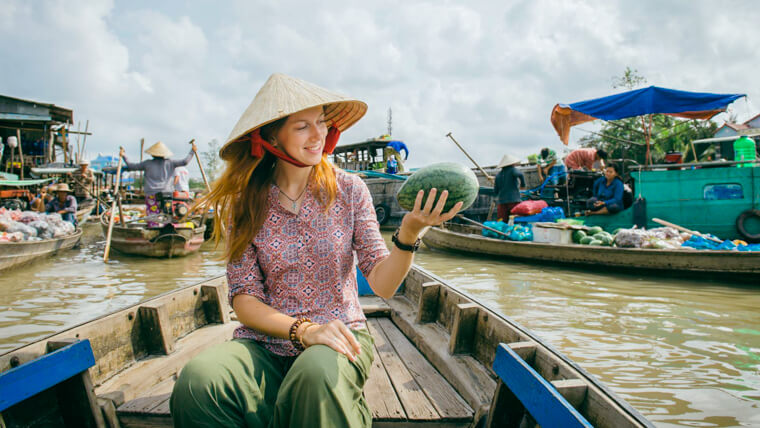 Source: culturemagazin.com
Visiting Southern Vietnam, people rarely visit only one or two areas, but often do a few days long tour that stop at many different places, participating in a variety of activities. Therefore, in addition to the Long Xuyen City 1-day tours, you will often see tours combined with neighboring areas such as Chau Doc, Can Tho, Vinh Long, Ben Tre, and Dong Thap. In most of these tours on the southern rivers, you will have the opportunity to experience the feeling of floating on the water, as well as visit beautiful landscapes, outstanding ancient architectures and historical sites, … The floating markets or night markets are also indispensable destinations in these kinds of tours, where you can enjoy the delicious specialties of the regions in the most rustic and original tastes. Here are some reliable tour providers that you can refer to:
Daily Travel Vietnam
Tour 4 Days 3 Nights: Ho Chi Minh City - My Tho City - Ben Tre City - Vinh Long City - Can Tho City - Long Xuyen - Chau Doc City - Tra Su Melaleuca forest
- Location: 3rd floor Khanh Phong Building, No.159 Nguyen Du Street, Ben Thanh Ward, District 1, Ho Chi Minh City
- Price range: 2,359,000 - 2,899,000 VND / person ($145.3 - 178.6)
- Website: https://dailytravelvietnam.com/
Mekong Exploration
Tour 7 Days 6 Nights: 6 Western provinces of South Vietnam
- Location: No.58, Tran Binh Trong Street, An Phu Ward, Ninh Kieu District, Can Tho City
- Price range: 5,380,000 - 8,882,000 VND / person ($331.41 - 547.13)
- Website: https://thamhiemmekong.com/
Nam Phuong tourist - NP TOUR
Tour 2 Days 1 Nights: Chau Doc - Long Xuyen Vietnam
- Location: No.58C Hoang Hoa Tham Street, Ward 7, Binh Thanh District, Ho Chi Minh City
- Price range: 1,725,000 - 1,975,000 VND / person ($106.26 - 121.66)
- Phone number: 035 511 820
- Website: https://namphuongtourist.com/
Carrying the typical idyllic beauty of Southern Vietnam's rivers, Long Xuyen An Giang Province, has become an attractive tourist destination because of its own unique features. This place impresses guests from all over with countless intriguing landscapes such as the floating market or Ong Ho Islet, outstanding historical sites and ancient architecture such as Northern Emperor Pagoda or My Phuoc Temple. Let's come to Long Xuyen Vietnam and experience an exciting journey of discovery, imbued with a unique culture of the river land.